New iHunter App
January 3, 2018
As many of you have noticed, the individual provincial and state iHunter apps have been consolidated into the new iHunter container app (on iOS only). As Apple has provided no means to transfer purchases between apps, we have had to use iCloud in order to transfer the app purchases to the new app. For most users this should be a seamless process, however there are some settings that may cause issues.
If the new iHunter app is not recognizing your previous purchases, please take a look at the following FAQ and let us know if you are still experiencing issues by emailing info@ihunterapp.com.
iOS Apps Consolidating – new iHunter app coming
August 15, 2017
In July of this year, we received an unexpected requirement/ultimatum from Apple: Consolidate all iHunter apps into a single app (within the next two months), or remove the apps from the App Store.
After all escalation requests failed, we (and thousands of other developers in the same situation) faced the reality of the boat-load of work ahead of us. The details of why Apple is doing this are pretty unclear, but we must adapt our business to meet the newly enforced requirements of the App Store.
The General Plan
Consolidation of the apps meant that we could re-use one of our more popular apps and convert it into a "container" app. This new iHunter container app would become free to download for future users, with access to the individual province or state for sale within. We are also offering a free 1-week trial for each of the regions, to allow potential users to determine if the app would be worth the fee. We "re-used" the iHunter Alberta app, as it has the most current users and should make the transition more seamless for them.
The Details – Transferring purchases
As province-specific iHunter apps were paid apps, we needed a way to transfer those app purchases, and provide access to that content within the newly available app. We built a way to validate whether your iTunes account owned the specific app previously, and unlock that province/state.
In-app purchases for Pro Tools or land ownership maps will also transfer to the new app, and a Pro Tools purchase will apply to all provinces accessed within the app.
The Details – Province/State specific data
Previously, we built in the vast majority of the province/state specific data directly into the app, so that everything would be available within the app at install time. This was simple and meant that even if you downloaded it one day, and didn't open it until you were out of cell service, it would still work.
With the consolidation of 14 regions into one app, we can no longer build in all the data right in the app. When a region is purchased, or requires updates, an internet connection is required to download the required resources. The app won't be usable until the resources are successfully downloaded.
The Details – Data Backup 
We will be releasing a new version of each region-specific app shortly that will allow you to login to iHunter. Once logged in (with Google, Facebook, or email/password), you can back up all your waypoints, preferences, and settings. This data will be synchronized with other devices (Android or iOS) that you log into with the same account. So if you add waypoints on your iPhone, the will also show up on your Android tablet.
We strongly recommend users make use of the login mechanism. It's our number one support issue, because a lost or broken device leads to permanently lost data when not logged in. All the data is stored securely, and is encrypted so not even we can view the details of your personal data.
Rollout
Once all province specific app users have had enough time to get the updated app and log into iHunter, we will roll out the new iHunter app. We will notify other iHunter users to migrate to the new app. We are planning to begin the rollout of the login and backup features at the end of August, and probably publish the new container app in early October.
Questions?
Please send any questions or comments to us at info@ihunterapp.com. We will do our best to make this as seamless as possible, and will need your help identifying issues that we don't catch.
iHunter Pro Tools – Draw and Measure
April 11, 2017
The iHunter Pro Tools has had the "Draw over Map" feature for a while now. With the latest release, we added the ability to measure distances and areas as well. Have a look at the feature video below to see it in action.
Support dropped for very old versions of iOS and Android
April 3, 2017
We have tried to maintain backwards compatibility for as long as possible, to help support those who have old devices that are unable to update to newer Android or iOS versions. This support holds us back from advancing the product and adding new features. Despite this, we have tried.
With the addition the Google maps on iOS, the mapping component has a minimum iOS version enforced. To include these features, we needed to drop support for iOS 6. With version 2.0.1 of the iOS app, we did this. iOS 6 users will still be able to download older versions of the app, but no further updates will be available (regulation updates will continue to work for some time). With version 2.0.1, we also accidentally broke support for iOS 7 (oops), but that is being repaired now, and will be fixed in version 2.0.2.
On Android, we were supporting all the way back to Android 2.3 (thats really, really old). To support further development we have dropped 2.3, and our new minimum is Android 3.0.
Ultimately, it becomes more and more difficult to support very old versions, and as things progress, we will need to progress with them. Do let us know if you have any questions or concerns.
Upcoming Features
February 3, 2017
The "off-season" is when the iHunter team does the vast majority of significant app improvement and development. This year is no exception, and we have been working hard on improving both the iOS and Android apps. Here is a list of upcoming features/fixes that you can expect:
Android and iOS
Ability to bulk-cache landownership maps, and cacheable base maps. If the base map can be cached (labelled as such in the settings), then you can manage that cache. You can select a region of the map, choose a zoom level to cache to, and start downloading. You need to be on wifi, and we limit you to 100 MB of data per download, but the end result is that you can pre-download areas of the map so that when you get into areas with little to no cell reception, you can still have full mapping capabilities.
Addition of a new base maps, from public sources. We are adding a few new Topo maps, and a couple road maps as well.
Allowing custom base maps to be added to the app. Do you have access to a TMS or WMS based map that you want to use instead of the maps we provide? If so, you can enter that map information, and use that instead of our maps (our maps will not be shown, and your map will be base layer). There are all sorts of maps out there on the internet that you can add (assuming you have permission / license to do so).
Allowing custom map layers to be added to the app. Just like the previous point, but you can add map layers on top of the other base maps. Your province or state might have map layers available to show private land boundaries, wildlife habitat densities, or similar information. You still want another base map underneath though, as these layers might only cover part of the map. Like other cacheable maps, these can be bulk-downloaded as long as you confirm that you have a license to do so.
Provide direction to waypoints. When tapping on a waypoint in iHunter, you will be presented with an option to get driving directions to that location from either Google or Apple Maps on your device. We don't have the manpower to do a full directions based GPS navigation system in iHunter, so we rely on other apps for the actual turn by turn navigation. You can disable this in the settings if you never use the directions.
You can opt to use smaller waypoint icons if you find the standard size icons are too big. As more and more waypoints are added to the map, they can be a bit overwhelming, and this gives those users the option to make them a bit smaller less conspicuous.
Current altitude will be shown in the Location info drawer for quick reference.
Android only
Greatly improved readability of the land ownership and base map layers on higher resolution devices. High resolution devices (pretty much every modern device), were "upscaling" many of the maps and making them pretty difficult to read. This is fixed and will be available shortly.
Updated settings view to more closely replicate the experience on iOS.
Improvements when selecting images within waypoints.
Chronic Wasting Disease drop off locations are now shown on the map, and CWD affected zones are highlighted with a yellow caution sign (Alberta only).
iOS only
Addition of Google road, satellite, terrain and hybrid maps in addition to the Apple and third-party maps. Although it required a re-write of the entire map portion of the app, the maps differ from Apple maps, and many users have been asking for it. As with Apple maps, these are not "cacheable" like our third party maps, as we don't have access to the raw map data, and rely on Googles own caching mechanism.
We have also hired on another full-time developer that is going to help us keep on top of bug fixes, keep the Android and iOS apps at feature parity, and continue building new features for the different provinces and states. Please let us know if there is something in particular you would like to see, and we will consider it as we prioritize new features.
Thanks,
Mark Stenroos
New Years Purging
January 4, 2017
A few years back, I decided to satisfy the somewhat frequent requests to provide a Blackberry version of the iHunter. As F&W and many other organizations were still standardized on Blackberry, and it was fairly popular in some provinces, it seemed like a reasonable step.
From a development standpoint, I am happy I did it. I re-worked the entire Android app, vastly improving the code base, in order to re-use large portions for the BB version. I learned some new technologies, grew as a developer, and enjoyed the work. I also made some users happy – for a while at least.
From a business perspective, it was not a great move. BB has been in steady decline, and their market share has reached near-zero for their non-Android phones. The sales have been dismal, and the technology stagnated to a point that I couldn't really add features (or it didn't make sense to).
Although the apps will continue to work for a while yet for any existing users, I have removed all Blackberry apps from sale on Blackberry World as of today. My apologies if you are still using a Blackberry device and want the app, but the cost to support and maintain them is too high, and I need to focus on providing improved products for the devices most people use.
Expect big improvements for both iOS and Android this year.
Mark
Interesting Emails
November 21, 2016
Every so often I receive interesting questions about iHunter via email that surprise me. They surprise me because I think that I have made something clear in the app; perhaps its not clear enough, though.
Question: If iHunter and the official regulations have differences, which one is correct and which one will be enforced?
Answer: The first thing iHunter does when it is installed is tell the user that it is not an official source or legal document. We do our best to maintain accuracy, but mistakes can and do happen. Its up to the user to ensure that they are hunting legally. However, not even the regulation booklet put out by the state or province is a legal document. It is a summary, and mistakes happen there too. Only the Wildlife act (or similar legislation in different jurisdictions) is correct and enforceable. Please double check with other sources and don't rely solely on iHunter.
Question: I have heard that iHunter has access to my Contact list on my phone. Is this true? I have also heard that iHunter shares my location with Fish and Wildlife so they can find me when I am hunting. Is this true?
Answer: No, neither is true. In our privacy policy, we outline what personal data we look at (virtually nothing). We don't have access to your contacts and we don't share your location (or waypoint data) with anyone (unless you choose to send it via email / text).
If you do have questions, please do not hesitate to ask them. I want to clear up mis-conceptions so you can use the app in confidence.
It's Taxidermy Time!
October 21, 2016
It's that time of year again, when the success of the hunt ceases to be a dream keeping you up at night, and becomes a memory to be looked back on for years to come. Whether you were able to get your first Black Bear or a "Booner" Mule deer, when it was a hunt you want to remember, its worthwhile having that memory preserved by a professional taxidermist.
This spring, I was able to harvest my first black bear with my bow and it was a trip I won't soon forget. I was able to share it with a couple of great friends, filmed it, and wanted my first bear done up as a rug. The guys at Dave Booth Taxidermy gave me a great quote (15% off for all iHunter users) for both a rug and a full body mount, as well as a more than competitive price on cleaning up the skull. As this bear came in quietly and curiously, I decided to go with a closed mouth rug, along with the skull cleaning.
The pictures, as great as they are, don't do their work justice. The detail work on the face is fantastic, and the skull came out even better than I had expected.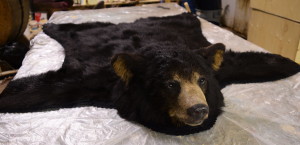 If you have a memory you want to remember forever, have a look at Dave Booth Taxidermy's online gallery to see some of their past work. Remember to mention iHunter and get 15% off all taxidermy work as well!
Please report any issues with the app directly to us
September 30, 2016
Each year, we receive reports of major issues with the app, that we try to fix as soon as humanly possible, to get people back up and running. When issues happen on iOS, its a pain, because even once we fix them, it takes Apple a week to publish the fix.
Luckily, we haven't had one of those issues yet; but we are experiencing some reports of crashes on Android. I am doing my best to get these fixed, but in many cases, I can't actually reproduce the crash that's being experienced. If a user submits a crash report, it does wonders to help get things fixed. However, if they don't include an email address in the crash report, I have no way to get in touch with them to discuss the reproduction steps, or ask other important questions. So please do include contact info.
If you do come across any other major issues (or minor ones) on either platform, please email me at info@ihunterapp.com with a detailed description of the issue. That way, I can get it fixed for the many other people that are also experiencing it.
Thanks in advance, and I hope not to hear about too many issues. Good luck to you all this season.
-Mark
Transferring iHunter to a new phone
August 25, 2016
One of the most common questions I get is, "I bought a new phone, how can I transfer iHunter without paying again?"
The answer is, you can if you are moving to the same type of phone (iPhone to iPhone or Android to Android), and you can't if you are switching phone types. If you are staying on the same device type (or own multiple of the same device type), you can install iHunter (and all your in-app purchases) on multiple devices. Just use the same iTunes or Google Play account that you purchased the app with, and you can download the app for free. On Android, all your in-app purchases should activate automatically, and on Apple, you will need to press the "Restore" button on the purchase screen for each in-app purchase.
Why can't we transfer purchases from iPhone to Android and vice versa? Because the big guys won't let us. The terms of use of the app stores prevent us from working around the technical restrictions, and if we try to do so, the app stores could pull the apps from sale entirely. This is probably because both app stores want their 30% cut of every dollar that flows through the store. They also want you to stick with their product once you have invested money into apps and in-app purchases.
Thanks for understanding, and I hope to keep you as a customer even if you decide to switch phones.
MapQuest maps stopped working today
July 12, 2016
Unfortunately, two of the map layers that have been available within iHunter up until now, MapQuest Roads and MapQuest Satellite, stopped working today. MapQuest has removed access to the maps as of today, and require some development work to re-integrate them.
If you are using these maps, and zoom into a new area, you will see something like this: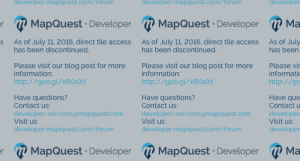 Until we release a new version of the app removing these maps, please select one of the other 5 base maps offered.
Sorry for any inconvenience.
2016 Season Info
May 15, 2016
As we do every year, the iHunter team is busy updating regulations and boundaries for the upcoming season. Different states and provinces release their updated information at different times of the year, so apps get updated as these are released (usually about a week afterwards).
So far, we have updated ON, SK (spring seasons only), MB (spring seasons only), QC, WA, OR, ID, MT, and CO. There are a few types of seasons in each that are still pending, such as Game bird seasons, Migratory Bird seasons, Mountain Lion seasons, etc. Once they are available, we will work to integrate them as well.
BC, AB, SK, MB, NB and PA have yet to release their 2016/2017 regulations, so we are patiently awaiting them. If you see them released before we have them published, feel free to shoot us an email at info@ihunterapp.com to notify us.
Also, as always, if you notice a mistake or something we can improve on, please let us know so we can get it fixed before the fall hunting season.
In-app Purchase spontaneously disappear?
November 12, 2015
I have had a few reports for iOS users of in-app purchases becoming deactivated. Sometimes this has happened after an iOS update, sometimes after changing base maps, sometimes for no reason at all.
I can't explain this, but can help restore functionality. Go back to the purchase screen for the feature, and look in the bottom right corner. There is a "Restore" button there. Press it, and if you have purchased that feature before with your current Apple ID, the feature will be restored. If this isn't the problem, maybe the layer just got hidden. Go to the settings for the feature, and toggle it off and on again.
Finally, if there are any of your county maps that aren't showing up correctly right after purchase, try restarting iHunter (press the home button twice and "slide up" on the iHunter app image). As a last recourse, you can try clearing the map tile cache by going into the settings (bottom right corner) and pressing the clear cache button.
If all that doesn't help, try restarting the app, and then the phone. If that still doesn't work, send me an email at info@ihunterapp.om and I will try my best to help you out.
Thanks, and good luck with the rest of the season.
New Bone Yard Trail Cams
October 11, 2015
It's only the past few years that I have started really making proper use of trail cameras to prepare for the hunt. This year, with a bull moose tag in my pocket, I stepped things up and added two new "Kill'n Kams" to my trail cam setup (http://the-bone-yard.myshopify.com/products/killn-kam).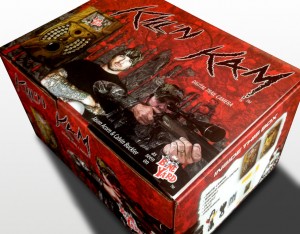 Calvin and Jason from "The Bone Yard" have stepped into the manufacturing game this year, and released the trail cam mentioned above, a new line or arrows (Kill'n Stix) and even some lighted nocks. Being an Alberta-based company ourselves, I wanted to support these local guys and give their camera a shot. And man, am I happy. Sporting a 12 mega pixel camera, with a really decent flash and support for pictures, video and a combination mode, I have been impressed with the quality and function of the cameras.
My typical setup is using the combination capture mode which takes three pictures with a 30 second video after each set of pictures. This allows me to get high quality images to use for proper identification and use in social media, with a video clip to give me more context of whats going on. I password protect the cameras to give a little security from curious hunters, and set the motion detect distance for the camera depending on how big an area I want to cover. The front facing LCD screen also makes it dead simple to set up and confirm that the camera has the right field of view. To be honest, I don't think I would ever buy a camera without an LCD, or with an internal LCD, as they are just so much more difficult to get set up properly.
I was able to get some great photos, and narrow down my hunting area to one with a ton of moose (and deer, and elk, and bear for that matter) which ended up with me harvesting a fantastic bull. Next trailcam you buy, look into the Kill'n Kam, $199 for a 12 MP, full function camera that takes amazing pictures:
http://theboneyardstore.com/collections/gear/products/killn-kam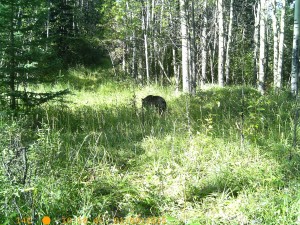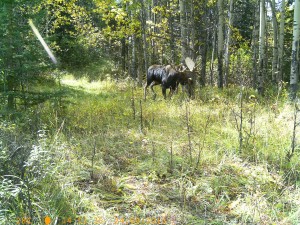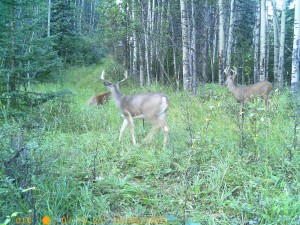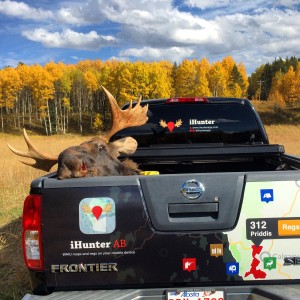 Be Careful Out There
October 6, 2015
I just got an email that I have been dreading for a long time. A user wrote in to mention that they were hunting near a municipality, and relied on iHunter AB's no hunting zone boundaries alone to determine where they could hunt. As iHunter does not show municipal boundaries, they thought they were legally hunting, but were in fact within a municipality's limits. They were caught, fined, and lost their animal.
Please be cautious out there, and use iHunter as a reference, but acknowledge that there are limitations to the app and that you are ultimately responsible to ensure you are hunting legally. We will try to incorporate more data when it is available, but will never have everything. In addition, we could make mistakes, and its always prudent for you the user to double check both season summaries and boundaries when uncertain.
Thanks and keep safe (and legal) out there while hunting this year.
-M
Retiring iHunter New York
September 3, 2015
It was only last year around this time that I (and my intern) put the finishing touches on iHunter New York as the 14th iHunter app. Since that time, it is the only state / province that hasn't thrived (less than a hundred downloads). As NY State took their time updating their regulations, the workload for other products and projects spiked, and once released, I just wasn't in a position to spend the required time updating the NY version.
The developer and hunter in me say to suck it up and spend the 20 or so hours it will take to update the app. However, the business man in me says to cut my losses of time and money and remove the app from the store. Thats what I did today.
If you already have the app, you can continue to use it for waypointing, tracking, satellite imagery, and zone boundaries. However, season summaries will no longer be updated, and once you move to a new phone, you probably can't download it again.
My apologies to those few of you that did purchase it, and I hope you understand why I chose to stop working on it.
Game Down app for iOS
August 25, 2015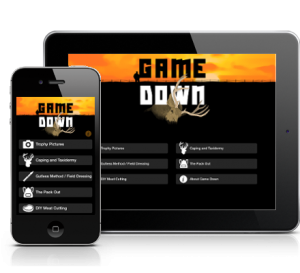 New to hunting? Or maybe just want to learn basic skills for taking care of your game in the backcountry once it's on the ground? How about basic meat cutting to save your self a ton of money at the butcher shop?
Game Down app is well put together tutorial for learning things like:
– The gutless method of field dressing
– Taking good trophy pictures
– Properly loading your pack
– Quartering and deboning meat
– Basic meat cutting
– How to Cape your animal for a shoulder mount.
The best part is that it all downloads to your iPhone or iPad so you have complete access to the videos even when you are out of cell phone service!

Alberta regulations are live, and Saskatchewan is coming soon…
July 21, 2015
Launch iHunter AB and you should be prompted to update your season summaries. Once updated, check out your favorite zones. If you notice anything that looks off, please shoot me an email and I will investigate immediately. Although we take care in ensuring we get everything right, mistakes can happen. The good thing is that if we find mistakes early, we can update them for everyone without needing to re-print the paper booklet.
The Saskatchewan regulations are also out, but we aren't quite through processing them yet. We should have them updated in the app within a day or two. Thanks for your patience.
2015 Canadian Badlands Pheasant Festival Stettler
July 15, 2015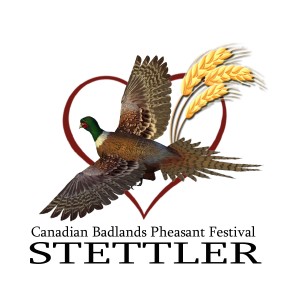 Registration for the 2015 Canadian Badlands Pheasant Festival – Stettler, is now open.
The second annual Canadian Badlands Pheasant Festival- Stettler is fast approaching (October 15-18, 2015).
This is an opportunity to bring along 3 friends to hunt pheasants and work your dogs. Each half day hunt is supplied with 8 pheasants released a maximum of 2 hours prior to the hunt. Other pheasants are available for hunting at a fee. There is no limit to how many birds you can purchase and hunt as they are tagged and the festival is licensed with a Ground Bird Shooting License. The festival will set you up with a private quarter section of land for your hunting party.
The festival offers an opportunity to share camaraderie and hunting stories over a hearty meal. Silent and live auction items are also available. Take this opportunity to strengthen your dog's skills in dog training sessions over the lunch-hours Friday-Sunday or learn to cook pheasant during the culinary event on Saturday.
Let the Canadian Badlands Pheasant Festival provide you with a unique pheasant hunting experience and register today at:
events.canadianbadlands.com
More information about the festival can be found at:
Canadian Badlands Pheasant Festival Stettler
iHunter Pro Tools for Android
June 21, 2015
It has been a long time coming, but the iHunter Pro Tools are now ready (ish) for Android. We are currently running a Beta release of the tools to select users to test out the purchasing work flow, and the features. If you are interested in getting early access (there is still a cost associated with the Pro Tools), shoot us an email with your Google Play ID and the province / state you are interested in.
For more information on the Pro Tools, check out:
http://www.ihunterapp.com/in-app-purchases/
Thanks,
-M
2015 Regulation Updates
As always this time of year, we get bombarded with questions about when iHunter will have the updated regulations integrated. Unfortunately, we are tightly linked with the provincial / state release dates, and can't release anything until they do. For many proactive jurisdictions, this happened in the spring time (QC, BC, ON, MT, ID, CO, WA, OR, PA). For others, we are in the process of converting and validating (NB).
There are still a number of provinces / states (AB, SK, MB, NY) that have not released. If things track as they did last year, we hope to have these in hand and in app by mid July, with some waterfowl seasons not released until late August.
Please be patient, and once the regulations are released, please report any inaccuracies asap to info@ihunterapp.com.
Thanks,
-M
Sausage anyone?
April 17, 2015
One of our favorite iHunter partners is CTR Refrigeration & High Caliber Products. Not only do they provide us with the butchering and sausage making equipment that we use every hunting season, but they also make us lunch.
If you are in the Calgary area this weekend (Sat April 18th), stop by CTR Refrigeration at 4840 52nd St SE for their customer appreciation event. Sausage making demos by Mark the "Flying Cleaver" at 9:30am, 11:30am & 1:30pm and free lunch from 11am – 2pm.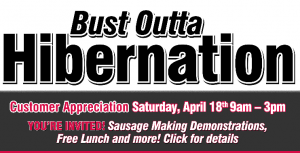 And of course, Mark from the iHunter team will be there giving demos and talking tech (and hunting) to whoever wants to listen.
Hope to see you there!
2015 Season Info slowly being added
With iHunter now supporting 14 different states and provinces, compiling and reviewing newly released season info and regulations can be a challenge. Luckily, many jurisdictions release this info at different times of the year, and the iHunter team only gets hit with a couple sets of data at the same time.
So far this year, we have been able to update iHunter for BC, Quebec, Oregon, and Colorado, as they all have early release dates for many of their game species. Montana is also available, but is a huge document with thousands seasons to review, and is taking longer than expected.
We do our best to update the season info within a couple of weeks of the regulations becoming publicly available. However, sometimes we slip up (or our automated website monitors do) and we don't realize they are available. Don't be shy about letting us know. Email us letting us know which state or province is available. We are either already working on it, or will start ASAP.
Thanks to all of you for your support, and your patience as we update your apps with the latest hunting information.
iHunter Alberta Public Lands – Important Changes
October 31, 2014
We recently released a new in-app subscription for iHunter Alberta – the Public Lands Layer. Details can be found here:
Public Lands Layer
However, one of the layers that was recently added to this subscription contains errors, and is being retracted. Specifically, the "White Area Public Land" layer mistakenly identifies some sections of private land as public. This is the worst case scenario for a layer such as this, and has resulted in the removal of this layer until a new data set, without these errors, can be created. The layer has been removed from both the Android iOS version with the latest update.
How did this happen?
The data source that the Public Land boundaries was derived from (the DIDs data set) shows the boundaries for all public land dispositions and notations. Some of these notations (Consultative Notations, Protective Notations, Consultative Notation Company), are registered on land for the purposes of identifying public land interests in land, such as the bed and shore of a lake or river, etc. As the bed and shore of a lake can recede or expand, the exact boundaries are not defined, and thus, the entire quarter section of land that the bed and shore encroaches on are defined under the notation. As a result, private land that sits on these notations, was included in the Public Lands Layer, when it should not have been.
How is this being fixed?
We are trying to acquire a new data set, or a new method of interpreting the data to recreate this data set, without the private land being included. We are unsure when or if this will be possible.
I want a refund!
I would like nothing more than to refund your subscription money if you no longer want the rest of the data in the subscription. However, the tools provided by Google and Apple do not allow for this. In addition, the subscription itself did not include this layer when advertised. The subscription, as shown on the Google Play and iTunes app stores, includes Agricultural Lease Land, Vacant Lease Land, and "The Green Area". As all three of these layers are still offered, and we hope most users will be satisfied with this.
iHunter Alberta regulation format change
August 25, 2014
As many of you have noticed, iHunter Alberta went through a format change for the WMU info pages. Previously, season summaries were displayed in three columns (Species, Archery, General). This was aligned with how the province posted their seasons, but did not allow room in the layout for other important information. With the new format, we have split the archery and general seasons into two different rows, allowing more room to list season restrictions, full date labels, and season status indicators.
Unfortunately, this regulation format change is not backwards-compatible with older versions of iHunter, so upgrading to the latest version is required. Just visit the Apple App Store or Google Play store to update to the latest version to get the newly formatted regulations, and many other improvements. If you have any feedback on the changes, just send us an email and let us know what you think.
iHunter for Blackberry is here!
August 21, 2014
If you look at market share, and listen to the numbers, there is no good reason to release an app on Blackberry these days. With market share on a steady decline, there just aren't enough users to justify the development cost.
Despite this, the iHunter team has heard from many hunters that still use their devices, and wanted iHunter. So, we spent some time this summer porting our Android app over to the platform. The mapping component used on Android (Google Maps via Google Play Services), was not available on Blackberry so we had to re-implement nearly everything map related. Since you have used iHunter, you know that is most of the app! Regardless, we got most of the development done by August, and after testing and more testing, we have published iHunter BC, iHunter Alberta, iHunter Saskatchewan, iHunter Manitoba, iHunter Ontario, iHunter Quebec, and iHunter New Brunswick to the Blackberry World store.
Check out all our Blackberry apps here.
So, if you know a hunter with a Blackberry 10 device, please let them know that iHunter is now available!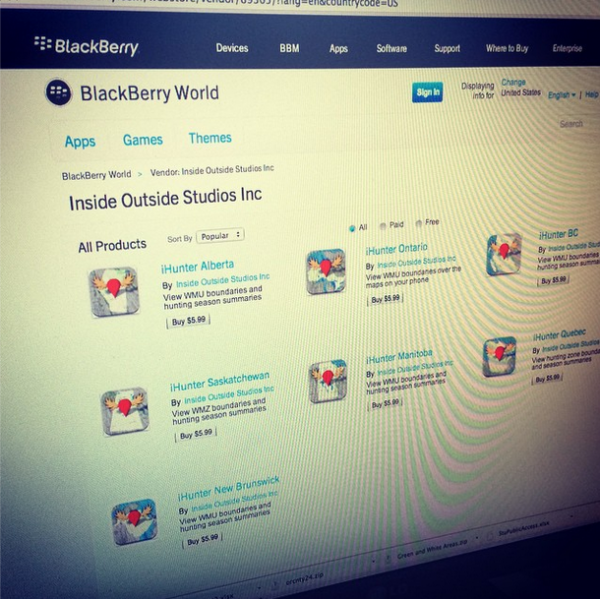 The Replacements on WildTV – Starting in July
July 3, 2014
Be sure to check out a brand new show airing on WildTV this summer, "The Replacements". This group of hunters won their own air time on the first ever Canadian reality show called "The Search", where they competed against 10 teams from all over Canada. They brought some extremely high quality footage to the table as well as some quality animals.
The Replacements go to air the first week in July. Three of the bucks that will be showcased on the first two episodes, two of which had mounts done by Top Notch Taxidermy Studio, are featured below. Chad Teliske anchored 2 giant Alberta deer in a matter of 3 days (that's over 350″ of antler!!!). His cameraman for these 2 hunts was Murray Harrington who tagged out on a beautiful opening day velvet whitetail. Three HUGE bucks were all shot only miles apart. This is going to make for a very action packed 2 episodes – Tune into WildTV in July and be sure to check out The Replacements!
Facebook: The Replacements Canada
Twitter: @treplacements
Instagram: @treplacements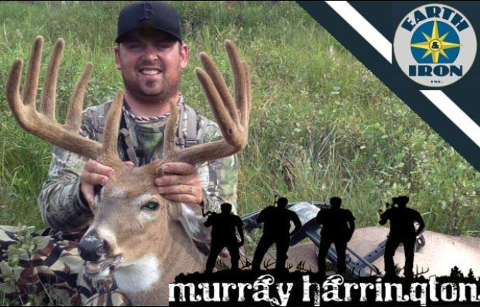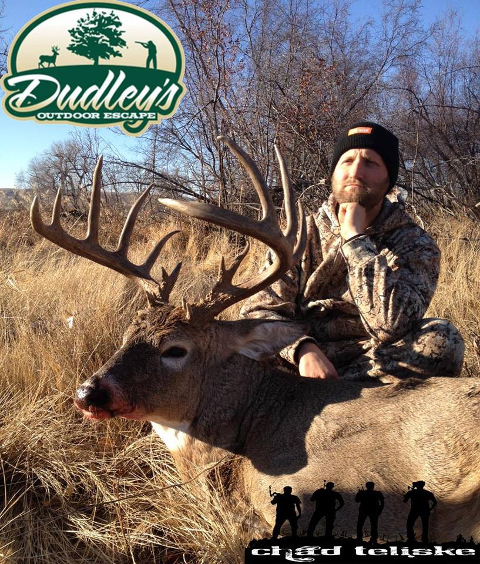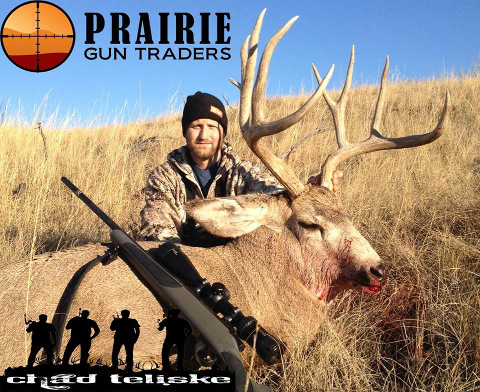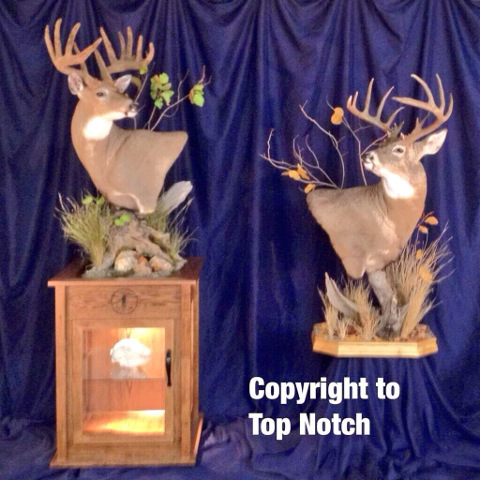 2014/15 BC and Manitoba Regulation Updated
May 26, 2014
Another cycle of regulation parsing and updating has completed for two more provinces, BC and Manitoba, for the upcoming hunting season. If you recently launched your copy of iHunter BC, iHunter Manitoba, iHunter Ontario or iHunter Quebec, you were notified about the updated regulations. Press update and the new regulations are downloaded and updated!
Along with the new regulations come new versions of the apps, with better visibility into how open, closed, and upcoming seasons appear (iOS only right now). You can see at a glance which seasons are open (green), closed (red), and upcoming (yellow).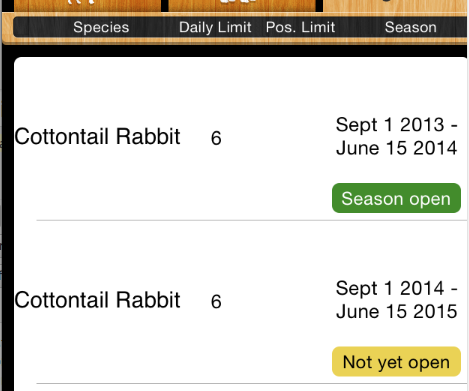 Many small updates and performance improvements are coming, along with some bigger ones closer to the fall season starting.
Ontario adds Spring Black Bear Season for Residents
May 3, 2014
For the first time in 15 years, Ontario will have a spring black bear season this year. The season, for residents only, will be open in wildlife management units 13, 14, 29, 30, 36, 39, 41 and 42 from May 1 until June 15.
iHunter Ontario has been updated to reflect these new pilot program dates. The details can also be found on the provinces website, at:
http://www.mnr.gov.on.ca/en/Business/FW/2ColumnSubPage/STDPROD_110535.html
Congrats Ontario hunters, on getting a great new hunting opportunity, while helping to manage Ontario's growing number of black bears.
-Mark
Ontario 2014/2015 Regulations Now Available
April 19, 2014
Ontario, while not as quickly as Quebec, has released their 2014/2015 hunting regulations. While others are gorging on turkey and easter eggs, the iHunter team has been hard at work processing the updates.
We are happy to announce that the season summary is now live. Launching iHunter should prompt you to update your regulations. Expect a new version of the app within the next couple of weeks, which will have the 2014 Hunt Guide built in as well.
While Big game, turkey, predator, and small game regulations have been updated, the migratory game bird season info is still pending. As the regulations are Federal, its usually not until late summer / early fall that we get our first look at them. Rest assured, once they are released, we will integrate them into the app and push out another update.
As always, if you notice any discrepancy at all in the latest season summary, please let us know via email.
-Mark
2014 / 2015 Regulation Updates
April 14, 2014
One of the most common questions I get from users is "when will you update the regulations?". Its a great question, and something that I need to communicate better.
We use each province's published regulations to write our interpretation, and publish within iHunter. Once the province posts them, we spend about a week processing and verifying them. Only after careful review do we "pull the trigger" on updating iHunter with the upcoming season's summary.
Keep an eye out for the update, and give me about a week's grace from the time the province posts the update regulations.
-Mark
Red Deer Sportsman Show a Great Success
March 4, 2014
Thanks to all those who took the time to stop by the iHunter booth this weekend at the Red Deer Boat and Sportsman Show. There was a such a mix of visitors over the weekend – users who had never heard of the app but got really excited, those with flip phones only considering an update because of iHunter, the hold-outs that want nothing to do with the technology, and existing customers. All of them were great to talk with.
It was great to have customers stop in just to let me know how much they like the app, and even greater to be able to help show unhappy customers how to fix problems they were seeing and introduce them to new features. I noted some performance problems on older phones (iPhone 4, for example), and started investigating.
I am happy to announce that I have managed to fix many performance problems, and have sent new builds out to Apple for approval – keep an eye out for a speedier, more responsive iHunter.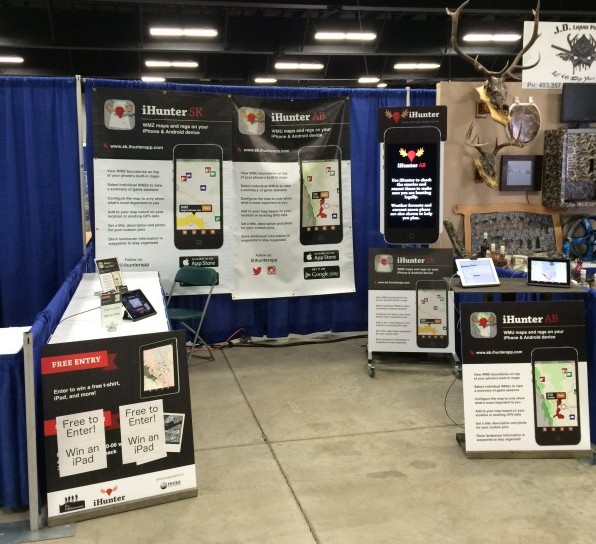 iHunter Makes its iPad Debut
February 24, 2014
When iHunter was first released in 2012, the primary goal was to allow hunters to see exactly which hunting zone they were in, and to know the regulations where they were hunting. This goal was best met by focussing our time and energy on building a product for smart phones, as they are the devices that people have with them most frequently.
Despite the intention, our users didn't keep iHunter on their phones. As iPads and other tablets became more popular, users often installed the phone specific app on them. For Android tablets, the app scaled pretty well. On the iPad, however, the app was scaled up, looking pixelated and of poor quality.
Finally, after many requests from patient users, we are finally ready to release an iPad specific version of iHunter. We previewed it to hundreds of users at the Calgary Boat and Sportsmen Show, with a very positive response.
iHunter Alberta – released Feb 27, 2014
Other provinces will be released shortly!